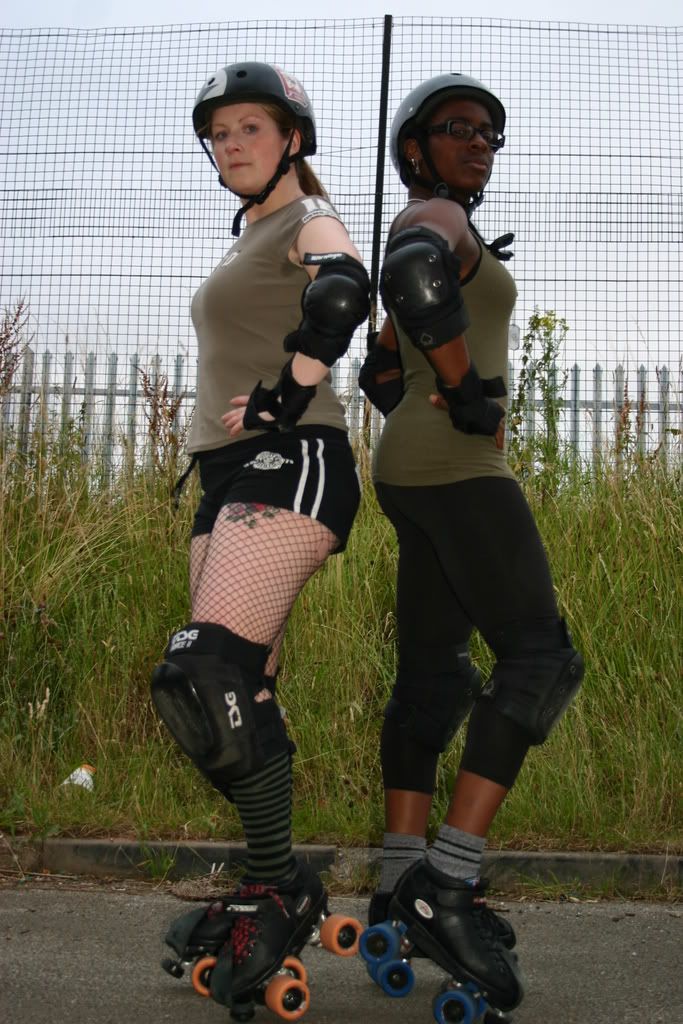 Four of our Blitz Dames have travelled to Las Vegas Nevada to attend
Rollercon
- the Annual International Roller Derby Convention where over 5,000 skaters from leagues across the world congregate in celebration to skate, party and skate some more!

This is the second year that the Blitz Dames have pilgrimaged to the high deserts of Sin City to join forces with other skaters in fever-pitched (and fever-pitched temperatures!) to compete in challenge bout.
Last year, Blitz Dames were joined by other girls from London, Australia, New Zealand and Canada, collectively forming
Team World
, prevailing against opponents Team USA 46-24!
This year, four of the hardest, fastest and most fearless skaters on the league go to represent Birmingham & the West Midlands on the roster for 'Team UK' to face-off against the Australian dream-team the 'Farkin Elles' for the very first time in history!
Double-Trouble jammer / blocker
Violet Attack
will show them her back on the track.... Hilda Blizzhard will bust that pack wide open with her fearless rampages.
TearE Hatchet
will no doubt give them a sneer as she slides by them with the longest legs roller derby ever saw... and making them eat track is our legendary
Sleazy Rider
!

Team UK is a dream-team of skaters from the Blitz Dames, London Rollergirls, Leeds Roller Dolls, London Rockin Rollers and Glasgow Rollergirls.

The challenge bout happens Thursday, 31st July at 10:15pm PDT - (that's 7 hours behind us!) - UPDATE TEAM UK VS TEAM OZ HAS BEEN RESCHEDULED FOR SATURDAY - MORE DETAILS TO COME!

Even at this time of night the temperatures will be soaring over 41°C!

Best of luck to you Dames --- our wishes and at that time, dreams of your victory will be at mind... We want video, photos and if you can pack me a mai thai!

Skate Hard, Hit Harder.
Bee Sting #101
PHOTO: L-R Sleazy Rider & Violet Attack