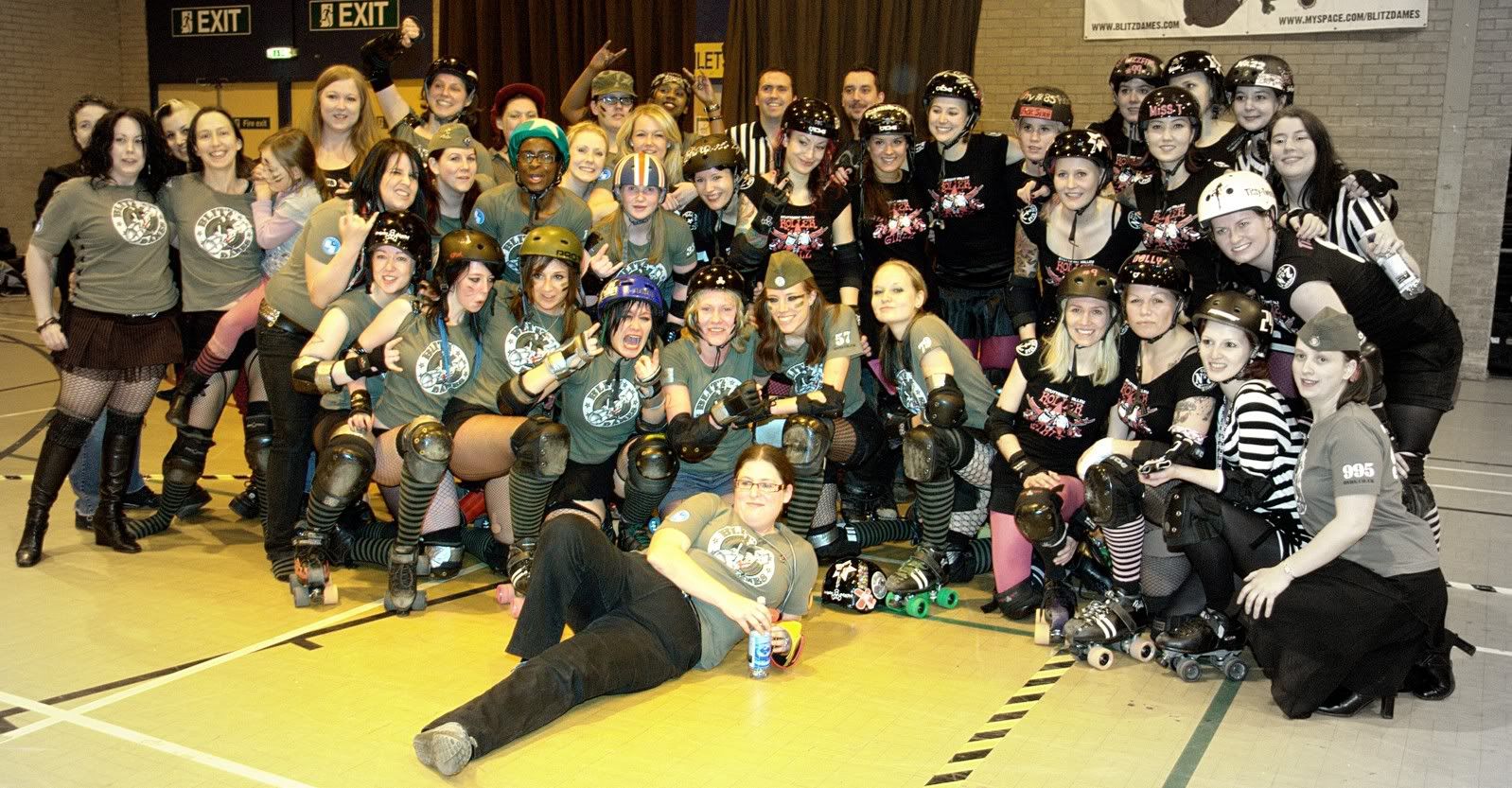 22 November 2008 at Cocks Moors Woods, Birmingham, England UK
Bout Recap
Making roller sports history again the Birmingham Blitz Derby Dames hosted the Stuttgart Valley Rollergirlz in the first ever pan-European bout held in the UK. Both leagues seemed closely matched in terms of physical size, experience, speed and strength. Birmingham skating without two of their most experienced and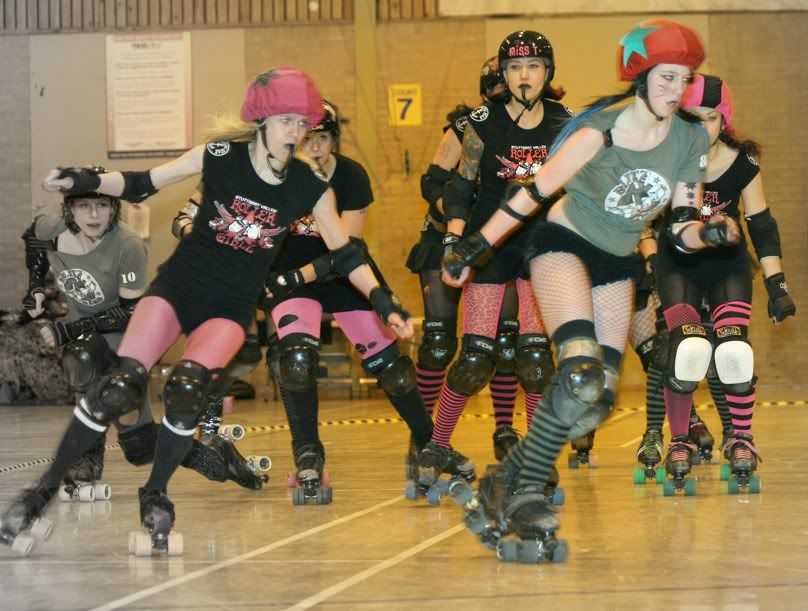 very strong players, Bee Sting (injury) and Sleazy Rider (work obligations) but were bolstered by the presence of Helen Fury, who stepped in at short notice after being originally unavailable to skate this bout. Each team were skating with 12 skaters, however Birmingham jammer Roisin Roulette began feeling ill and struggled to keep up with the pack on the warm up laps and this was potentially a problem since Birmingham were already short of jammers, with another jammer, Tear E Hatchet just back from injury. Victoria Cross made her bouting debut for Birmingham as a blocker.
First Period

Scoring was close for the first few jams as the skaters sussed each other out. Jam 1 of the first period was Tear E Hatchet for Birmingham against Blitzkrieg Baby for Stuttgart taking lead jammer but scoring zero points. Birmingham's defensive tactic in the pack seemed to be paying off but Stuttgart responded and differences in playing style became apparent; the Stuttgart girls play a physical game and there seemed to be a bit of confusion as to the rules as Birmingham skate to the WFTDA 3.1 ruleset where blocking out of bounds and cutting the track are major penalties with Justine Credible as Head Ref strode the infield with authority and kept the proceedings in order despite a number of official time outs and language barriers.
Jam 2 Violet Attack for Birmingham gets lead jammer and calls it off just as SVRG's Dolly BustHer hit the pack scoring only one point. Birmingham's blockers Helen Fury and Union Jack-U-Up were delivering some heavy hits, with Violet Attack jamming and blocking at the same time with her usual forceful impact.
Jam 3 Hilda Blizzhard for Birmingham against Miss Tsunami gaining lead jammer status and scoring four points before calling it off with Birmingham gaining zero on this jam. Jam 4 Birmingham's Roisin Roulette first and last jam as she gets lead jammer gaining two points against Polly Purgatory who gets zero points to help. At this stage there is only one point between the teams with Birmingham 6 against Stuttgart 5.
Lining up for Jam 5 up for the first time jamming is Dame Union Jack-U-Up against SVRG Public Enemy who gets lead jammer, as Birmingham blockers Kiki Kasplat appeared to try out a horizontal block at one point and Elle Fire was solid at the front whether as blocker or pivot, combining well forming walls and preventing the Stuttgart jammers from progressing through with Union gaining four points for Birmingham and Public Enemy calling off the jam after gaining only two.

Jam 6 Birmingham jammer Tear E Hatchet skates against Noxious Angel as lead jammer gaining four more points for SVRG with Birmingham gaining zero. Jam 7 Birmingham blocker Saintly Sin was a constant bother to the Stuttgart players usually causing trouble towards the back of the pack as Violet Attack gains lead jammer status against Dolly BustHer who manages to gain three points over Attack's one before she called it off.
The UK's youngest rollergirl, Gun Bunny skating for Birmingham, was asked to jam despite a lack of recent jamming practice when Roisin Roulette went off to be sick after the fourth jam leaving Birmingham down to 11 skaters.
Jam 8 started with some confusion where SVRG started with two skaters in the penalty box and full four skaters on the track; despite efforts from officiator Promise Payback to signal to the refs, the jam progressed with too many SVRG skaters on the track and but Gun Bunny manages to gain lead jammer status against Stuttgart jammer Dolly BustHer both jammers earning three points.

Jam 9 had Birmingham's Hilda Blizzhard jamming and blocking tirelessly and gaining four against lead jammer Miss Tsunami gaining only three. Jam 10 Birminhgam's Tear E Hatchet jammed with determination despite being knocked down by Stuttgart blocker who trampled over her to get back up near the penalty box.
Jam 11 both teams were demonstrating fantastic strategy in the pack holding back each jammer successfully leaving each team scoring zero on this jam with Violet Attack who had lead jammer against Public Enemy.
Jam 12 had lead jammer Hilda Blizzard gaining a fantastic eight points for Birmingham over Blitzkrieg Baby who failed to score. At this stage Birmingham was beginning to widen the point spread on the game leading by 10 points at 30-20.
Jam 13 lead jammer Violet Attack gains four points over Noxious Angel who failed to score. Jam 14 no lead jammer was called leaving Tear E Hatchet gains zero against Public Enemy gaining four points skating two full minutes. Jam 15 gains lead jammer and two points over Blitzkrieg Baby who fails to score.
Jam 16 had Gun Bunny who gains lead jammer and four points over Blitzkrieg Baby who failed to score. After the jam was called off and the ref's whistle Gun Bunny was taken out in a very hard hit, from Stuttgart player, Miss Tsunami who was majored by the referees and sent off. An official time out is called whilst Gun Bunny gets checked out by the on-site medical technicians.
The Birmingham Dames were beginning to feel the strain of being down a jammer as Roisin Roulette was out for the game with sickness so skaters were required to skate more often with fewer breaks and this would have made a big difference in the second half. Less experienced skaters for Birmingham, such as Diamondback Belle and Victoria Cross had to skate more often than planned and as Roisin Roulette also skates as a pivot and blocker. At this stage the entire line up plan was re-jigged by the very capable Von Bitch and Jack Attack from the London Rockin Rollers, who were managing the line ups as honorary Blitz Dames for the bout.
Jam 17 Tear E Hatchet gains lead jammer and four points for Birmingham as Public Enemy fails to score. The final jam of the first period, Jam 18, had lead jammer Hilda Blizzhard scoring nine points over Polly Purgatory six. At the end of the first period Birmingham had widened the score to 49-30!

Second Period (49-30)
The second half began as it was notable that Stuttgart changed up their game responding in kind to the Dames tactical approach and had lead jammer seven times to Birmingham's three, with several jams lasting a full two minutes as neither jammer made it through without penalties - whether down to tired jammers or tighter blocking. Both teams made good use of walls at the front of the pack. All the blockers kept each other busy, and got right back into it after taking hits.
Jam 1 Tear E Hatchet jamming for Birmingham gaining one over lead jammer Blitzkrieg Baby who called it off after scoring three points. Jam 2 had Violet Attack who got lead jammer over Dolly Busther who failed to score.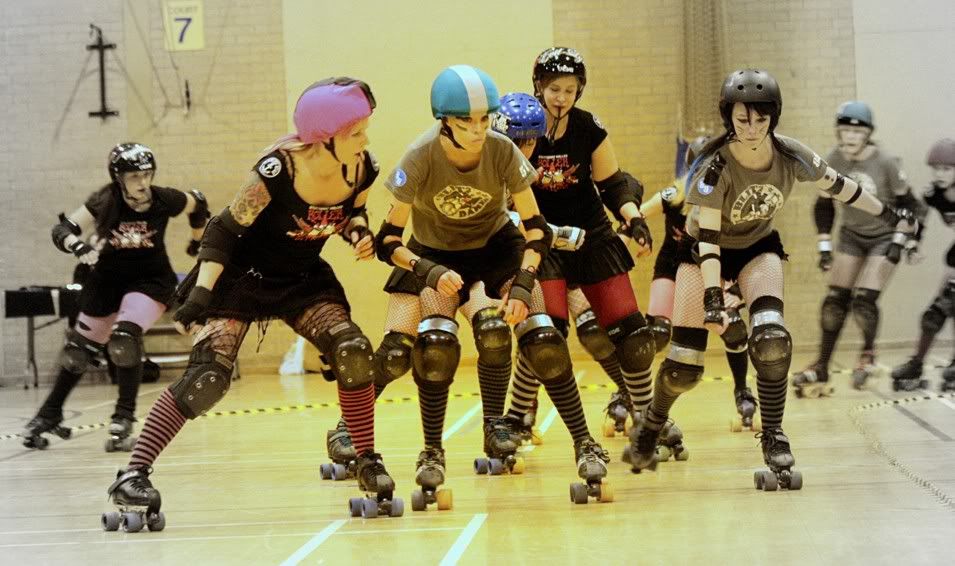 Elle Fire as pivot and Helen Fury as blocker combined to hold the Stuttgart's jammer and Attack although left mainly to her own devices as the pack concentrated on holding the opposing jammer got through to score four points before she called the jam.

Jam 3 Hilda Blizzhard was up against Miss Tsunami; the SVRG skater got lead jammer and skipped through the pack as Birmingham were engaged in clearing a gap for Blizzhard; Stuttgart scored six, Birmingham scored one point and just as Blizzhard was breaking free Miss Tsunami called the jam to prevent any further score.

Jam 4 Violet Attack jamming against Polly Purgatory who would skate for a full two minutes. Violet Attack was taken down hard by Blitzkrieg Baby; there was no lead jammer although Polly Purgatory having passed twice through the pack tried to call off the jam to some confusion on and off the track. Scores were then showing 56-47.

Jam 5 Tear E Hatchet jamming against Public Enemy. Stuttgart got lead jammer but Tear E Hatchet pulled it back to outscore her with four points to Public Enemy's three. Jam 6 Gun Bunny got lead jammer, assisted by the Dame's pivot, blocker 2 and blocker 3 combination at the front of the pack holding back Blitzkrieg Baby. Bunny scored a fantastic eight points and called the jam, with Stuttgart jammer only managing to gain four points. At this point Birmingham lead 68-54.

Jam 7 Violet Attack and Public Enemy was a no-lead-jammer affair, hard fought points going Attack's way as she scored six to the SVRG three (74-57).Jam 8 Tear E Hatchet against Polly Purgatory and after her initial pass was frustrated by a solid defensive wall at the front from Birmingham blocker Helen Fury and Union Jack-U-Up. Polly stepped inside the track to pass the wall and was promptly sent off for cutting the track for a major penalty to the penalty box. However, SVRG rallied and blocked effectively to prevent Tear E Hatchet capitalising on having the being the only jammer on the track (74-58).

Jam 9 Birmingham's Tear E Hatchet was sent to the penalty box leaving them without a pivot. There was no lead jammer so Gun Bunny jammed but scored zero while Helen Fury and Violet Attack at the front of the pack did an excellent job holding Miss Tsunami, who scored one point but was eventually sent to the penalty box before the full two minute jam finished.
Jam 10 Hilda Blizzhard jammed against Blitzkrieg Baby. Helen Fury was sent off to the penalty box and Union Jack-U-Up delivered a stunning block taking out Blitzkrieg Baby. There was no lead jammer so the jam ran to the full two minutes with the jam ref reporting nine points gained for Stuttgart and only three for Birmingham giving a much needed boost to the visiting team.
Jam 11 Birmingham jammer Tear E Hatchet got tripped by blocker Blitzkrieg Baby who was sent off by the referees for a major penalty. Public Enemy was lead jammer as strategic blockers for Birmingham, Helen Fury and Violet Attack combined well to hold Public Enemy back only scoring two points while Tear E Hatchet caught up and the jam was called before Tear E could score (77-69).

Jam 12 Union Jack-U-Up jamming for Birmingham who concentrated on holding back Stuttgart jammer Polly Purgatory who gained lead jammer and scored four points, giving Union Jack-U-Up little assistance failing to score. Blocker for Birmingham Victoria Cross sent off (77-73).
Jam 13 with the score so close double-trouble Violet Attack came on to jam against Blitzkrieg Baby who got lead jammer and but was sent off for penalising. Violet Attack got trapped at the front by two Stuttgart blockers, with Hilda Blizzard struggling to assist Violet Attack chasing the defensive wall and making a bridge to the remaining pack so that the Stuttgart girls were still in play and able to hold Birmingham's jammer back. No points by either jammer were gained. Very frustrating for the fans to watch from the stand but so difficult to spot when on the track.

Jam 14 Tear E Hatchet gains four after getting lead jammer against Polly Purgatory who scored two but despite Birmingham defensive dream team of Helen Fury, Hilda Blizzhard and Union Jack-U-Up combining to delay the Stuttgart's jammer before the jam was called with scores at 81-75.

With very little time on the clock Birmingham jammer Violet Attack came out again against Blitzkrieg Baby; knowing that if the scores remained the same it was a Birmingham victory Violet Attack got in front of her opposing jammer and did some amazing positional blocking preventing the Stuttgart jammer from scoring at all as neither jammer passed through the startled pack a second time. Some of the crowd were confused, with Violet Attack receiving boos from the Stuttgart supporters but cheers from those supporting Birmingham. This was a fine demonstration of tactical thinking, positional blocking and the power of a properly deployed backside winning it for Birmingham (and England!) 81-75.

MVP for Birmingham: Gun Bunny
MVP for Stuttgart: All 12 of them
Most Points Scored by a Jammer: Hilda Blizzhard
Penalty Queen: Miss Tsunami
Birmingham will travel to Stuttgart, Germany on 31st January 2009 for the rematch.
BLITZ DAMES
16 Violet Attack - Captain
333 Union Jack-U-Up - Co Captain
N17 Roisin Roulette
57 Tear E Hatchet
52 Hilda BlizzHard
10 Helen Fury
79 Kiki Kasplat
14U Saintly Sin
11 Elle Fire
27 Victoria Cross
888 Gun Bunny
77 Diamondback Belle
STUTTGART
21 Miss Tsunami - Captain
7 Dolly BustHer – Co-Captain
13 Polly Purgatory
187 Evil-Lynn
6 Rambona
17 Noxious Angel
20 Spin Up
85 Public Enemy
99 Miss LizzFits
16 Teazer
81 Titty-Twista
9 Blitzkrieg Baby