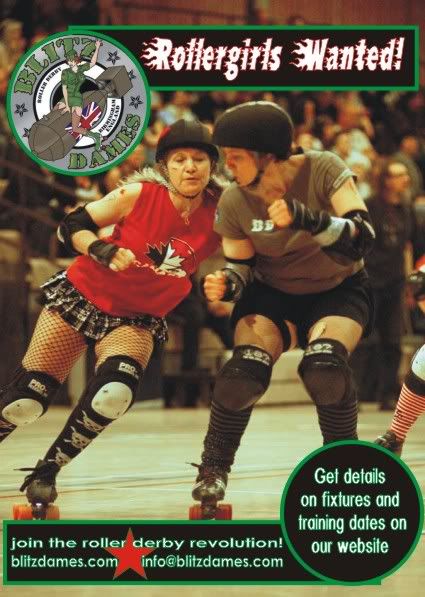 The Birmingham Blitz Derby Dames are now recruiting ladies 18+
Ladies, would you like to be a kick ass dame on wheels?
Guys, would you like to participate in the wild world of roller derby but thought you couldn't because you're a guy?
Do you feel you're too old or "not in shape" to skate? Do you think "If I knew how to skate, I'd do this"? Well, think those thoughts no more!
We are recruiting skaters or if they prefer, other non-skating positions.
It does not matter how old you are or what your shape or size is! And it does not matter if you have never put on a pair of skates in your life or if you need help learning, we will teach you!
New member inductions are on the first Saturday of every month (except when there are holidays!) Click here for training dates:
www.blitzdames.com/training.html
We have all types of positions, of course including skaters (for the ladies), Referees, Scorekeepers, Announcers, Photographer, Videographer anyone interested in this crazy sport of roller derby!
Spread the word to all you know! Support your local roller derby!!!